While living in Qatar (during the covid pandemic peak!), my partner and I were adopted by a small injured kitty who grew up to be our most valuable and indulged family member. When we made the decision to rescue Chai off the streets and welcome him into our home, we also had to commit to the fact that Chai would come with us when we left the country. So we were already mentally prepared for the headache that relocating a pet from Qatar would give us in the future.
Fast forward to 2023 and I am ready to begin the process of relocating a pet from Qatar. The process of relocating a pet from Qatar is mostly simple but it's long, tedious and expensive. This blog post is based on my personal experience of moving my cat from Doha, Qatar to Belgrade, Serbia via Istanbul with Turkish Airlines.
I am not a pet relocator and can most likely not provide you with any personalised help. I am sharing my experience so others may use it as a starting point for their own research regarding relocating a pet from Qatar.
At the time of moving, these were Chai's specifications:
Your experience will differ based on the breed, size and type of animal in addition to the destination you will move to.
Where to start?
The first thing in the process of relocating a pet from Qatar is to find out how the country you are moving to accepts animals. This means you need to investigate whether the country allows pet to enter:
Via the cabin (in the plane with you, under the seat)
Via excess baggage (when you arrive at the airport, you will turn over your pet to the airlines at the same location you check-in your luggage. Pets are flown in temperature-controlled, pressurized holds.)
Via manifest cargo (pets flying as manifest cargo must be tendered to the airline at their cargo facility at the airport- not the baggage check-in. They travel without their owners on a cargo flight in a temperature-controlled, pressurized holds.)
I have listed each option in order of how expensive it is; of course each airline has its own price but generally manifest cargo is the most expensive option. Now you're probably wondering why anyone would choose a more expensive option- some countries require pets to arrive as manifest cargo. Australia, for example, will not allow pets to arrive in-cabin or as excess baggage. So the destination you're moving to plays a huge role in determining how your pet will travel.
My career as an international teacher is quite mobile so I started to look for jobs in countries which allowed Chai to travel with me in the cabin. He is quite attached to me so I knew this would be the best option for us. For many people they would not have this amount of flexibility in choosing their destination so it's important to research as much as possible what is allowed for your destination.
As soon as I accepted a job in Serbia, I started scouring the government websites and contacted the Serbian embassy to make sure I could start the process.
We flew with Turkish Airlines as they one of the few pet-friendly airlines that allow relocating a pet from Qatar via the cabin. I booked my ticket via their website and immediately phoned their call center to add Chai onto my ticket. Have the pet passport and your credit card ready when doing this. They will outline the airline rules for travelling with pets when you add the pet onto your ticket and you can also check their website.
Cost for adding cat onto my ticket: 170USD
Plan as far in advance as you can
Once you have figured out the method to transport your pet to the chosen destination, it's important to start considering other factors for relocating a pet from Qatar-
Microchip your pet and get a pet passport
If you have NEVER taken your pet to the vet before, now is the time to get on that task. The bare minimum for any pet in Qatar is to have the pet microchipped and to get a pet passport. A microchip is a tiny, computerized chip that's placed underneath your pet's skin, usually around the shoulder area. The vet will put the microchip number into the pet passport as well as your details. The vet will advise what other treatments are needed (for example, cats need regular tick and deworming treatments). You can scroll down to the end of this post for the vet I recommend and use.
Arrival into the country
Certain countries, including Singapore, Japan, South Africa, Australia, and New Zealand, require pets that are domesticated to be quarantined. Check to see if your pet will be quarantined in the country where you want to go because quarantine laws may change frequently. You are responsible for covering all expenses if your pet needs to be quarantined. You need to budget accordingly for this as it can be quite expensive to have your pet quarantined. The quarantine facility may also not be in the city/place that is close to where you will live so you need to factor in travel costs to move your pet. For example, pets can only enter South Africa through OR Tambo (Johannesburg) or Cape Town international airports where quarantine facilities exist.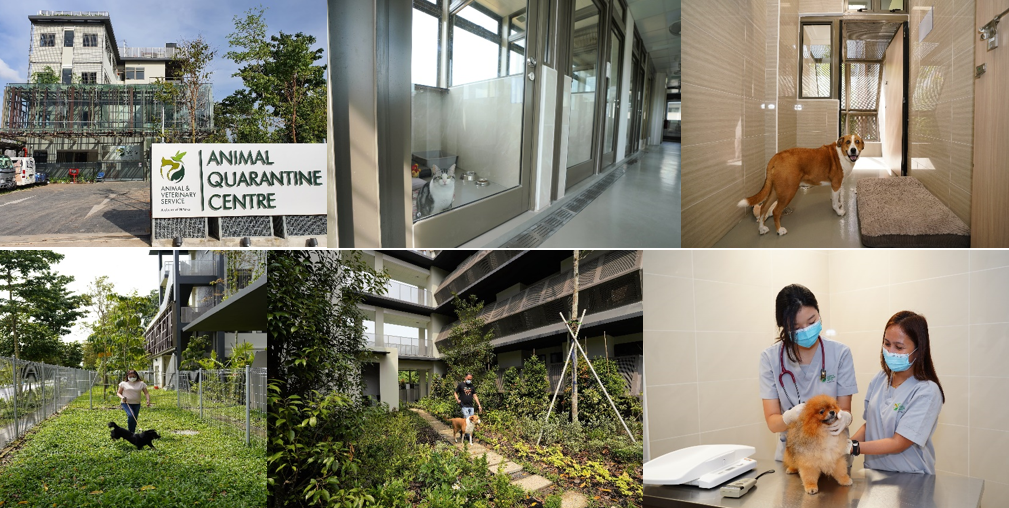 Vaccination Requirements
Each country has its own requirements about what vaccinations are crucial. This depends on where you're moving from as well as where you're moving to. Here are the two treatments I needed to ensure were up to date for Chai's move to Serbia:
Rabies
Before relocating a pet from Qatar, the law requires all dogs and cats to have a current rabies vaccination that has been given within 30 – 364 days prior to travelling. In addition, Serbia also required a RATT (Rabies Antibody Titre Test) not less than 30 days after their last rabies booster/vaccination. Once your pet passes this test, it will take another 90 days before they can actually travel.
Timeline required: 4 months before travel
Rabies booster administered 4 months before travel date
Blood drawn for RATT test: 26-30 days after rabies booster was administered
Blood sample sent to the UK for testing and results received: 3 weeks after blood was drawn
Then I waited 90 days before we could travel. The RATT result is valid for one year so technically it can be done anytime within a year of travel but you cannot travel for at least 3 months after the blood was drawn.
Cost: 1300QAR for the blood sample and RATT result (this can be cheaper if you take your pet for a group RATT but I chose convenience for me and comfort for my pet by doing it at my local vet).
Flea, Tick and deworming treatments
All cats (indoors or out) need to be protected from internal and external parasites seasonally or year-round, depending on risk factors and climate. This was a requirement from the Serbian government to be administered within 10 days of departure to Serbia.
Cost: 130QAR
Paperwork
When relocating a pet from Qatar you will need 3 main pieces of paper that must be completed 10 days before departure (not earlier!) and in this order:
-Health Certificate
This is issued by a vet to say that your pet is fit for travel and that their vaccinations are up to date. Take your QID and pet passport along with you. Any vet can do this for you.
Cost: 50QAR
– Export Permit
This is a form to say that the animal can be taken out of Qatar. The health certificate is mandatory for this as well as your passport and pet passport. You can apply for this online but the website didn't work so I ask the vet to take care of this on my behalf.
Cost: 250QAR
– Entry Form (as per destination)
Serbia has their own form that needs to be filled out by a vet when entering Belgrade (or any land border). Many countries will have their own forms to be filled out. Make sure you check with the embassy or government website to obtain the correct one. This form can be filled out at a local vet or the government vet.
Cost: 200QAR
Please note that you can definitely do all of this for cheaper, I used an agent to complete my paperwork and do the running around to the Ministry of Agriculture. In my opinion, it was worth it to assign this task to someone else.
Using an agent versus DIY
Personally, because I was able to fly with Chai in the cabin on Turkish Airlines and he did not require any quarantine based on Serbian law, I did not see the need for using an agent from the beginning of the process. However, towards the end when I became overwhelmed with other tasks, I turned the task over to my vet who had a relocation agent to assist. If you have multiple pets, your pet is large or the destination has complicated entry requirements, an agent can become necessary. In this case, here are two that I recommend:
Sam
Relocation Agent| Lárche Vet
saumya@larchevet.com | https://larchevet.com
Sam took care of all the documentation a few days before Chai & I flew out of Qatar. She checked in with me multiple times to confirm things via Whatsapp and was extremely helpful.
Adrian
Import/Export Specialist | Qatar Vet Center
relocation@qatarvet.com | www.qatarvet.com
Adrian had helped me when I was considering moving Chai elsewhere and even though those plans didn't work out, he was the only knowledgeable and competent person that assisted me.
There are many other pet relocation agents in Qatar though, I just found them unprofessional. You can ask Qatar expat groups on Facebook for more recommendations.
Overall Lárche vet worked closely with me to get the samples, treatments and vaccinations done relocating Chai. You can find their details below:
What I paid in total:
Paperwork, vet consultations, bloodwork and vaccinations: 2130QAR
Air ticket with Turkish Airlines from Doha to Belgrade: 620QAR
We arrived in Belgrade after a smooth flight from Doha with Turkish Airlines. You can watch my video of our journey here.
Animal companionship is amazing, and it's a blessing for both sides if you have the ability and responsibility to commit to it. If you've read this far, I wish you well on your journey to move out of Qatar with your pets. Thank you for not abandoning valuable members of your family and considering relocating a pet from Qatar.
IF YOU LIKED THIS POST, YOU MAY ALSO BE INTERESTED IN:
Free Photo Spots in Doha, Qatar
Visiting Purple Island in Qatar
Visiting Karaana Lagoon in Qatar
5 Free Sunset Spots in Doha, Qatar
Visiting Safliya Island in Qatar
Visiting Musfur Sinkhole in Qatar
Camel Races in Qatar: Where, Why & How to Visit?
Exploring Northern Qatar: A Day Trip from Doha
If you enjoyed this post, please feel free to pin it using the pin below:
Have you ever moved a pet before when relocating? Let me know in the comments below!